My husband and I spent a lot of time last year shoveling our driveway… for a modest snowstorm (4-5 inches of snow) it would take at least 1 hour for two of us to shovel the entire driveway.  And, when we got a big storm (1 foot or more) it would take a minimum of two hours for both of us to clear it away.  With all of the snow storms we had last year, we decided to go for it and get the snow blower.  I don't mind shoveling and I love the exercise but it was a huge time constraint.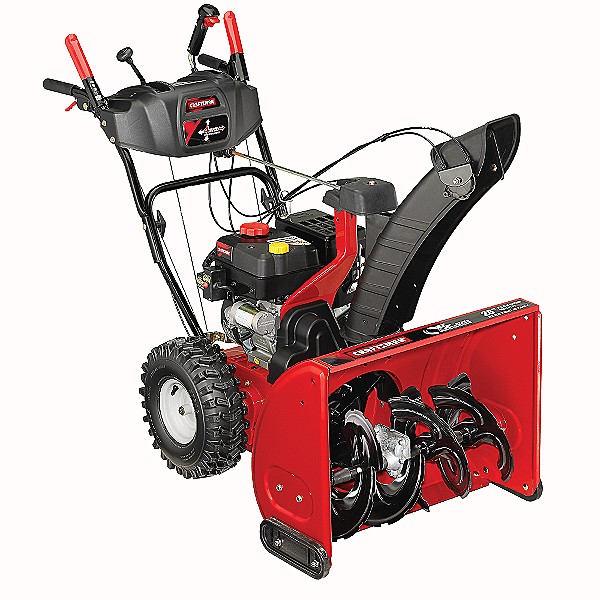 So, this weekend we picked out a Sears Craftsmen snow blower.   Ironically, right after paying for it we got a coupon (from the cash register) for 10% off our next purchase of a snow thrower.  Who purchases two at a time?  Sears was nice enough to adjust our price by 10% so that we could take advantage of that coupon.
Unfortunately, though, after picking it out and purchasing it we realized we had the wrong car for taking it home but we decided to bring our other car back later so that we could take it home.  We went home and got our Prius and took it back to Sears only to find out that it would not fit in the car!  What to do? What to do?
We ultimately decided to look at renting a truck for a few hours to try and get this big machine home.  So, off to Home Depot we went… When we got to Home Depot there were only two trucks left for rent and luckily we got one of them!  As soon as our information was entered into the computer (and, before we even got to swipe our credit card) the clock race was on!  Unfortunately, I think someone forgot to tell the sales clerk who sauntered slowly out to the truck and then realized he had the wrong key so walked ever so slowly back into the store to get the correct key.  Once we got into the HUGE truck we zoomed out of there to make sure that we hit our time deadlines.
Of course, we hit every red light between Home Depot and Sears… and, ended up behind slow car after slow car.  We finally made it to Sears with 35 minutes to get home, unload the truck, fill the truck up with gas and then get back to Home Depot… the race was on.  Man was this stressful?!?
We got home with the huge 225 pound snow blower and luckily we had a plan (courtesy of my husband) to get it off the truck… we maneuvered it so that it was half on the truck and half on a step.  Once we got it that far – I pulled the truck forward and then ran around to the back to lower it to the ground.  There were now 20 minutes left.  And, we started to breathe a sigh of relief.  Back into the truck we hopped to truck it to a gas station.  We get to the gas station and put in 3 gallons of gas as we hadn't gone more than 15 miles or so and then drove off to Home Depot when we noticed that the gas needle hadn't moved at all.  So, with 10 minutes left to go we had to go back to the gas station and add even more gas which again did nothing to move the needle.  We ultimately just gave up and drove it back to Home Depot… arriving in the store with 1 minute to spare.
A little stressful but we managed – Home Depot even credited us for the extra gallons of gas that we put in the truck.  All in all purchasing our first snow blower was quite the experience!  And, for those of you wondering how we got it into our garage… well, we cut the box up and wheeled it right in!
 That was my contribution to the plan.  Pretty smart – eh?
Do people / things seem to move in slow motion when you have a deadline?